Dmitry Baranov took a strategic position between two elements and demonstrates the skin in the game: first he became a dive instructor, and then obtained a skipper's license. Now he is promoting his own yacht&divie format flying the flag of the club of fans of non-beach-related rest — the «50 Bar».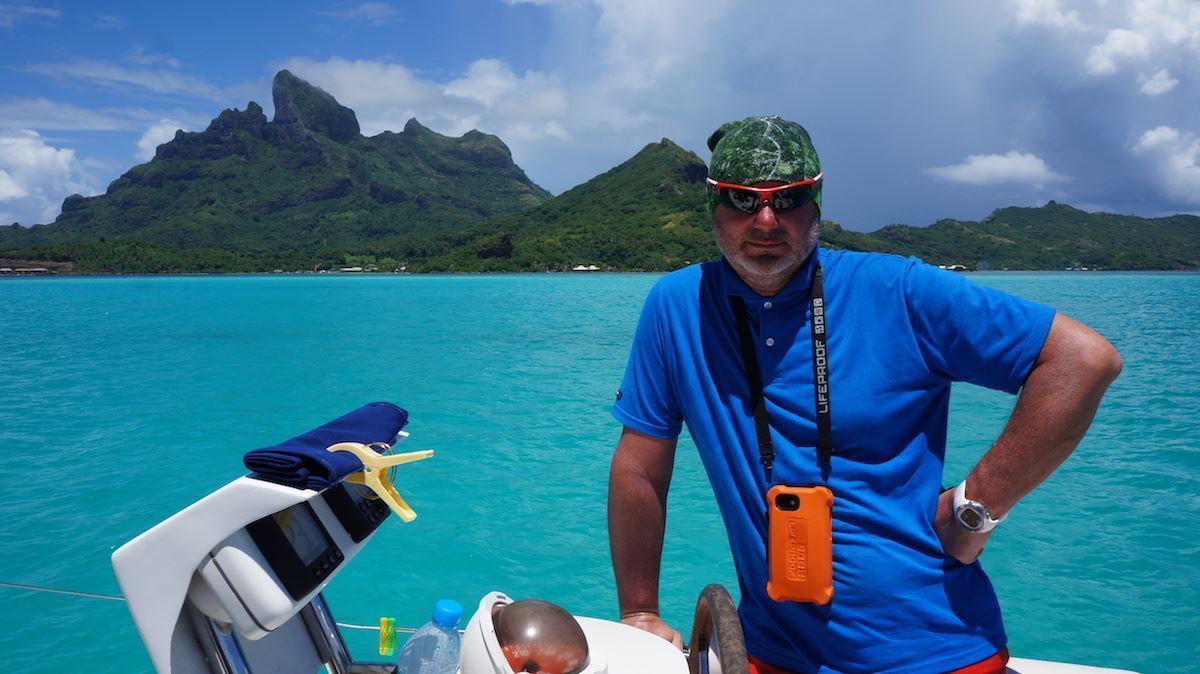 Ultimate Depth:
from divers to yachtsmen, from yachtsmen to divers or some middle course where divers and yachtsmen share their interests? What are the possibilities for such a combining?
Dmitry Baranov: the decision to combine diving and yachting came as soon as I got a skipper's license and felt that I liked it. I became a PADI IDC Staff dive instructor in 2007, worked for three years at Red Sea Diving College, a year as cruise Director in Maldives on a Safari boat.
And I was not looking for scope, I was just interested. I love all kinds of activity: mountain skiing, skydiving... I wanted to know what sailing is, so I tried that five years ago, and I learned. And I thought then: why not to try to put these two things together — diving under sail? And we started to promote such a format of travel: yacht&dive. Seven trips in such a format have already been successfully organized and brought off. Three more trips planned for 2019, they are in our schedule.
UD: how did the format of diving from under a sail develop in practice? What does such a trip look like now, in 2019?
DB: This is how we combine yachting and diving in one trip. It would seem that a simple approach arises: we take on Board our cylinders and dive directly from the yacht. Did once, did not like: still uncomfortable, uncomfortable, cylinders take up space, it is not always possible to approach a good site on a catamaran, it is not always possible to anchor there, especially in national parks. No anchor can be if one person is left to manage the boat, but the boat I ran, and diving was headed too I'm not to torn the same! So we came to a different format.
Moving along the route on a sailing yacht. We anchor in a suitable place. The local dive centre bodyshot on your boat with snaryagu. We transfer to them, we go to dive, then back on Board. Or as, for example, in the Seychelles: put the yacht in the Marina in the morning, the bus picked us up from the Marina and took us to the dive center, from there they did two dives, and we were brought back. And on their yacht have been going further. Although when taken from the water-a little more comfortable. And Marina is also an expense.
You can combine and even easier, making combined trips: a week of daily diving, a week on a yacht. Did so in Mexico: first week on a catamaran in the water area-with introductory snorkeling, and the second week-daily diving with a local dive center in the same places.
UD: it Turns out that you offer a new look at the world map. For a diver, The earth is shaped like a suitcase: here to dive, here not to dive. The yacht map of the world is different: the marinas are lit with bright colors, silver and gold lines stretch the passages corresponding to the skipper class. If the and another combine – map immediately is obtained richer! Where on your world map do you offer such a synthetic product?
DB: Mexico, Seychelles, Madagascar, French Polynesia, the Bahamas-we went through this personally. The plans include Brazil, where there is diving and yachting on the coast. The Caribbean, especially Cuba. As well as Thailand and Malaysia: they found good opportunities to implement our format. And this is a good alternative to such familiar formats as daily diving and dive Safari. To people for a week or two of his vacation to see more, try more, more would have taken home with me. We can say that this novelty is something unique that we sell.
The, that now is called conditional support liveaboard, it same so and was born. People went first on the boats on which they spent the day and spent the night – and then they began to dive from them. Then under this deal have adapted boats slightly more comfortable. There are places where you go sailing, motor-sailing. Large decorative schooners: in Indonesia, for example, there are a couple. Not in the Caribbean. And in the cold waters that interest many divers, this is generally rare!
Or take Madagascar: there's diving, there's yachting, and this year was the first trip there. The group in Madagascar was very sophisticated in travel, and all as one said: this is wow! Unanimous opinion. Best trip ever in my life. It must be very comfortable sailing in British Columbia, too. But all -??? more love warm water.
UD: and if you take more obvious directions-why don't you go there? Greece, Maldives?
DB: in terms of yachting in Greece, the market is massive. We are interested in creating exclusive routes. Maldives, where I worked for a while-they did not bother, but in the Maldives there is no bareboat Charter: do not give a yacht without a crew, and yacht infrastructure in General. Plus there is very bad with navigation: no digital maps in the Maldives do not work. And at low prices for a dive Safari there is no sense in the yachting format in the Maldives. And there is nothing on the Islands that can not be seen by ordinary Safari.
But the Seychelles has beautiful Islands that you can go around on a yacht: we did it three years ago already. There is a very decent diving, and yachting is all combined successfully.
UD: what do you put on the counter today, what product? What will you present at the Moscow Dive Show?
DB: Lay out a variety of active rest. There are two key routes: French Polynesia and Madagascar. These are our two trump cards. So and write large letters: Madagascar! Reunion and Madagascar-it was the first trip of the year, a month without a break, with replacement groups. Reunion is not often in the news, and it is a very good island: nature, active volcano, whales again.
UD: Your welcome guest-who is he, what is he? What is the optimal size of the yacht-diver group-how many people?
DB: The group, based on the size of the catamaran, is eight or nine people, plus me as the organizer. In Polynesia took two catamarans, we were 19 people. And in Mexico, six people went on a catamaran, and 10 people arrived for diving, two different weeks. That is, someone went to both, and someone only on yachting or diving only.
It is important that from the trip there were high-quality pictures, looking at which other people would want to go to those places too. So for underwater photographers and videographers and especially for guys with drones, we have the most special conditions – and we invite them to the trip in the first place.
UD: Yes, without high-quality shooting and a trip is not a trip. But here is group, here is there is skipper, skipper, and further as are distributed duties? You need a cook, you need a sailor, you need to keep watch.
DB: we Assume that any person can be taught to work with the sailing armament of a yacht. So part of the entertainment and educational program is also a crash course of a young sailor. But without force. Who doesn't want to learn, can calmly relax. But always in the team that we recruit, there are people who have an interest, and we agree in advance to work together. There are people with yachting experience who do not have to be trained for a long time.
That is, a diver with yachting experience-Yes, a welcome guest, but you can without. It is possible to begin to acquire this experience, and it is possible and not to begin.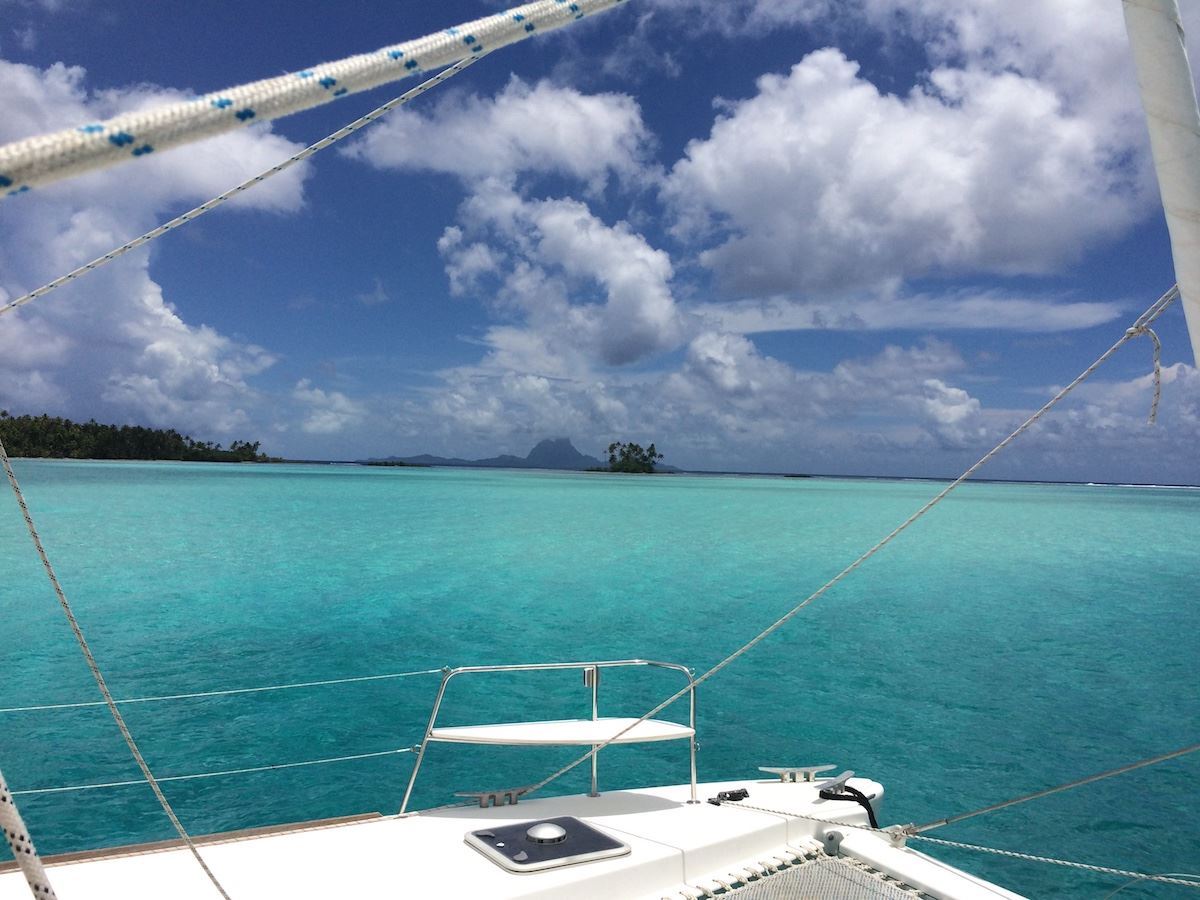 Indeed, life on a Safari yacht diver is well known, even too well, that's down to the smells and sounds. Of those who went on a live-aboard vessel boats, very few people went on a sailing yacht. Even just the nature of the pitching, the length of the wave and the visit to the galley is an adventure in itself. There is another degree of merging with nature – and not only the map of the world, but even the map of the area looks very different. And the same Safari format-it is also dotted on the world map, and there are places where it is not. French Polynesia is now the world's top destination: there is a luxury, a queue for a year or two, because only one flotilla operates, and prices are like in Antarctica. And if suddenly some small side door opens into this magical universe-it's super!
Yes, not everyone is ready to engage in yachting life. They say: I do not want to cook on vacation, I do not want to wash dishes. So a yacht with a local crew is also an option. In Madagascar this year for the first time we had staff on the yacht: there you can not Charter a boat without staff, there is a difficult navigation. A yacht with a crew is convenient in its own way: all the time is devoted entirely to the study of the country and diving, you can not be distracted. Although I was bored as a skipper and skipper. I thought: what do these people do when I'm at the helm!
UD:
Purely diver's question: and what qualitatively other underwater beauty can be opened in a yachting format?
DB:
there is no need to go far for an example: Madagascar, humpback whales in the Mozambique channel. Watched them, even shooting with a drone is. Or French Polynesia: in season, whales come into the lagoons, and it is very comfortable swimming with whales. There was a night at the anchorage, there are no safaris: this is Bora Bora, there are only small sailing ships. And just four meters deep under the boat sailed manta rays, blacktip sharks and rays from morning to evening. The moment it was all about. And this can not be obtained in any other way: on safariynike so do not stand up, and if you see it on the daily, then you certainly will not drink morning coffee with manta.
UD:
French Polynesia - how is the route planned? It's big, more than a hundred Islands!
DB:
on Friday morning we take a direct flight from Sheremetyevo to Los Angeles, in the afternoon we arrive local time. The same evening we depart from Los Angeles-and on Saturday morning we are already in Tahiti, and after another hour of flight we are on the island of Raitea, from which the yacht starts. And on Saturday we can go to sea. I got on a plane on Friday, and the next night I'm on my way to the Islands of French Polynesia!
In the opposite direction a little more difficult, but usually do so. On Saturday we fly to Tahiti, a day of driving around the island: one day there is more than enough to see the whole island. And on Saturday evening we fly to Los Angeles, and somewhere on Monday we are in Moscow. But you can also through Tokyo, for example: there is a direct flight Tokyo-Tahiti. Ten days at sea is a two-week trip.
UD:
the Organizational part is clear – how much does it cost? The diver has an established idea: in Egypt for €1000 there is some choice of dive Safari in the Maldives for €2000 is also a rich choice. Can be and cheaper. A dive Safari in French Polynesia is $6,000 and up. Where are you on this scale?
DB:
Our first yacht trip in French Polynesia (without diving) cost €2000 per person for two weeks, that is a thousand euros per week. A day of diving there costs about a hundred euros. We are talking, of course, not about Tuamotu, where big safaris go to Fakarawa and Rangiroa, but about the Islands of Society, about Bora Bora and Maupiti, where the yacht infrastructure is developed, and there are interesting dive sites. So our offer is unique.
There are three main dive sites in Bora Bora, where we dive: lemon shark, Manta Point and a channel with eagles that swim in flocks. Three dives on each site did – and swam on.
In fairness, for pure diving you have to fly to the Tuamotu. There's these canals with thousands of sharks that everyone is talking about. But neither the Tuamotu nor the Marques have yacht infrastructure. Long distances between Islands. Although nothing prevents to build the program as follows: a week on the Islands of the Society on the yacht and a week diving on Fakarava. And the price will be about the same, not much higher: depends on the class of residence.
I mean, you could say that. We offer French Polynesia for €999 per week per person, and all flights, if you take in advance, about €1000 two-way.
UD:
and to end the conversation life-affirming - with what go to the underwater people? With what ideas and values?
DB:
first of all, here's another map of the world. Secondly, at the same time to see more, to do unusual things, to get new impressions. Third, there are some underwater beauty, which otherwise will not get close. Diver-he loves the sea. And when you go on a yacht, on a catamaran, you are from the sea in one meter. And this is a completely different degree of fusion with the beloved element.